Press Release
Suite 66 signs exclusive representation deal with AccuWeather
August 20, 2018
Suite 66 becomes the first Canadian sales representation for the world's most accurate provider of weather forecasts and warnings¹.
Toronto, ON – Suite 66, in an exclusive representation deal signed this week, has become the first-ever Canadian sales team for the number one mobile weather source worldwide², AccuWeather. Suite 66 will be responsible for all custom, direct, and programmatic digital sales for advertisers located in Canada and looking to connect to audiences globally.
With over 4.5 million unique Canadian visitors monthly³, AccuWeather.com is the largest and fastest growing source for weather forecasts and warnings in the world and was recently honored with an APPY award for best Weather App for its Android product.
By providing forecasts and warnings with an unchallenged and verified margin of Superior Accuracy™, AccuWeather helps save more lives, keeps more people safe, and helps people and companies plan more effectively for all types of weather.
Bill McGarry, Senior Vice President of Advertising Sales said of the new endeavor:
"AccuWeather enables advertisers in Canada to speak to consumers with an unprecedented level of first-party, data-driven relevancy, and to deliver ad experiences across platforms… We're excited to work with a partner such as Suite 66. They're a natural fit for a company with AccuWeather's scale and ambition."
"Representing digital destinations that Canadians turn to for reliable and consistent advice has always been immensely important for Suite 66, and I'm thrilled we're now able to bring AccuWeather to Canadian advertisers" said Treva Goodhead, Vice President of Sales and Business Development. "AccuWeather has already shown us they are an enthusiastic partner and are committed to creating engaging experiences that connect consumers with relevant products and services."
The deal comes on the heels of a very exciting 2018 for Suite 66, having also recently signed exclusive representation deals with several premium publishers.
About AccuWeather
More than 1.5 billion people worldwide rely on AccuWeather to help them plan their lives, protect their businesses, and get more from their day. AccuWeather provides hourly and Minute by Minute™ forecasts with Superior Accuracy™ with customized content and engaging video presentations available on smartphones, tablets, free wired and mobile Internet sites, connected TVs, and Internet appliances, as well as via radio, television, and newspapers. Established in 1962 by Founder, President and Chairman Dr. Joel N. Myers -considered the "father of modern commercial meteorology," the nation's most respected source on the business of meteorology having been named "the most accurate man in weather" by The New York Times, and one of the top entrepreneurs in American history in Entrepreneur Magazine's Encyclopedia of Entrepreneurs – AccuWeather also delivers a wide range of highly customized enterprise solutions to media, business, government, and institutions, as well as news, weather content, and video for more than 180,000 third-party websites.
About Suite 66
Suite 66 is Canada's preeminent digital advertising solutions provider in the Lifestyle, Automotive, Home, and Travel categories. We couple our exclusive partnerships of category leading publishers with integrated content marketing, custom and traditional media placements, data, and strategic targeting techniques to help brands build meaningful relationships with their consumers. Our proprietary processes leverage our tech and data stack to enable Suite 66 to gain deep insights as to why and how consumers behave in order to provide them the type of relevant and authentic experiences that speak to their needs and wants. Suite 66 builds comprehensive advertising solutions that relate to the digital realities of today's highly mobile and brand savvy consumers.
Forecast Watch study: Analysis of One- to Five-Day-Out Global Temperature, Probability of Precipitation and Wind Speed Forecasts, May 2018
Mobile World Congress Press Room, Personalization, Timely Addition of New Features make AccuWeather the World's Most Popular Weather App, February 2018.
comScore Media Metrix, Multi-Platform, June 2018
Contact us
Interested in learning more?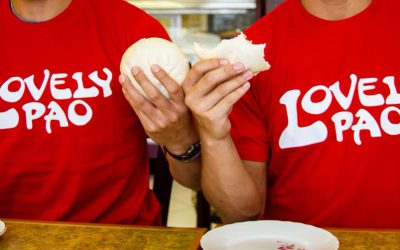 Watch what the owners of Lovely Pao had to say about the impact blogTO's coverage had on this hidden gem.
read more